NEW (11/8/2010)
In January of 1990, Dr. Bob Laubach created a quarterly newsletter. That newsletter was, and still is, called the LFA Newsletter (Laubach Family Association) that he alone gathered the news from Laubachs all around the world, compiled it, had it printed and distributed it to all the LFA membership for many years. Each issue is numbered and as of today we now have 70 issues in print. The editorship of the newsletter is different today, but it still goes on.
The LFA itself has quite a number of items in its archives, one being the transcriptions from a civil war diary written by Frederick R. Laubach (1840-1881 from Pennsylvania. With the permission from the family who had his diary in their possession in 1991, the LFA printed excerpts of the diary starting with the LFA News, issue Number 5 back in September 1991. The diary is dated from October 9, 1861 - August 8, 1865, and the excerpts ran until issue Number 25 -Dec. 1997.
A few years later, the then keeper of the diary (Byron John) had it published into book form (2001). We have gotten permission from Byron to again print those same excerpts here on the Laubach Family Site.
For those of you who want to know what was in his diary, you can follow along here as we again share Frederick's time during the Civil War. It is printed exactly as it was printed in the LFA NEWS in September of 1991.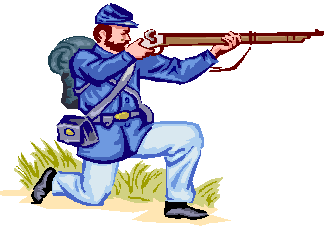 From a Poignant Civil War Diary
Kept by Frederick R. Laubach (1861-1865)
Frederick R. Laubach (1841-1881) was soldier during the Civil War years of 1861-1865. He was mustered into the army on October 27, 1861, at Lebanon, Pennsylvania, as a private; he was mustered out on June 27, 1865, as a sergeant. He kept a diary during these years, faithfully entering information each day, whether or not eventful. His son Merrit Lees Laubach (1872-1967), transcribed those diaries and a copy of that transcription has been donated to the Laubach archives. Thinking that other Laubachs might be interested in Frederick's experiences, we requested and received permission from Leola Tacke from Livingston, MT., niece of Merrit Lees, to excerpt material for the publication of the newsletter. The following is the first of these excerpts and pertains to Frederick's resume of his first full year in the army, 1862, written on January 1, 1863. (Light editing has been done for ease of reading; omissions are marked with...; insertions are in brackets.)
"To the reader I wish a Happy New Year. Today fins me still a soldier and the year 1862 has passed away and the war not yet ended. Today two years ago found me at home employed as a clerk in the dry goods store. Little did I think at that time that the storm that was already brewing would ever last so long at it has. I still had hopes that it might blow away as the chaff goes before the wind, but my hopes were blasted; the dark cloud that was than hanging over our once peaceful country burst at Fort Sumter. That flag we all love so dearly was there first fired upon by the offspring of some of those that begot it, and then did commence this wicked rebellion: today will be found fighting father against son and son against father. A horrible sight has been past; what is yet to come, time alone will tell. Many of our brave comrades have fallen in the defense of that flag and today near a million armed men are in the field in support of same; perhaps before the next New Year many of them will find a soldiers grave, their deaths caused by disease and the various missiles used in warfare.
"Summing up the whole time since my enlistment on October 10, 1861, amounts to this: The first six weeks of my soldier life was spent in Camp Coleman in Lebanon, Pennsylvania. Those few weeks passed by as but one holiday but finally orders come to leave that camp of instruction. This order was obeyed and in a few days we were on our way to the city of Washington as fast as it was practicable to go, stopping but a short time in the city of Baltimore. At Washington we spent the winter and one year ago last night I performed my last military duty for 1861 as corporal of the guard at Ft. Greble opposite Alexandria. During the winter our regiment was attached to General Peck's Brigade, Couch's Division, Key's fourth Army corps. On the 10th of March we started on more active duty. we crossed the Potomac at the Chain bridge and proceeded into Virginia as far as Prospect Hill where we halted. After spending one week there without shelter of any kind, we returned to our old camp from where, in a few days, we took transportation at Georgetown on the 'John A. Warner.' We proceeded down the Potomac and in a few days were disembarked at Hampton near Fortress Monroe. From here we took out line of march up the peninsula. We arrived at Warwick and there we lay during the siege of Yorktown after which we were engaged in the Williamsburg battle.
"Then commenced the long march to Fair Oaks where I took sick and was sent to the hospital and, in a few weeks, from there home. During my absence the 93rd was engaged in the Fair Oaks fight where it suffered severely. Following this came the terrible sickness in our army which thinned our ranks far more than the enemy had with their missiles of death. At the close of the month of June the army commenced falling back to the James River during which time the seven days' fight raged fiercely at Harrison's Landing. The army took up its new base and after six weeks of idleness, again commenced to fall back. I had rejoined my regiment a week previous to the last move. We left there on the 11th of August and arrived back in Yorktown the 23rd where we lay until the 30th when we embarked on the 'Daniel Webster', having served four months of a dogs life on the peninsula. After a voyage of a few days, we arrived at Alexandria and immediately started for Bull run, only to meet there our own defeated army.
"Then commenced the long march up though Virginia and Maryland. Following this were the battles of South Mountain and Antietam which proved victorious to our army. This gave things a new aspect and our hopes began to brighten.
"So both armies, with the Potomac between them, took a good rest, excepting for the reconnoitering parties which are always on the alert if any danger is apprehended. On the first of November we got orders to advance, so the army moved across the river and was in fine spirits until General McClennan was super ceded by [General] Burnside at Warrenton. This caused another delay but finally all were ready to move forward again. An advance was made as far as Fredericksburg where a desperate battle was fought resulting in a defeat to our army which again must recross the Rappahannock where it now lays idle again. And so closes the campaign of 1862.
"Today [January 1] camp life is rather dull/ Instead of the good times and meals I used to have at home, I am content to sit in my tent all day and eat hard crackers and my good old bacon and between times play a good sociable game of seven up or euchre to pass time. In the evening several [soldiers] got rather noisy having taken rather much whiskey, but this was all done on a New Years Day. the day was warm and pleasant; the evening was clear and the moon shone brightly."
(Additional excerpts will follow in the future)